Energy Gift boxes are the best way to get free energy in a Family Island game. Here, you will know about where to find energy boxes and how to get energy from them.
How to get Family Island free energy from gift boxes?
To get Family Island free energy from gift boxes, go to boxes and tap on them. Now, the gift icon shows on the box, tap this gift icon and collect energy.
The energy gift you will get from gift boxes depends on the size of the box. Small gift box gives 8-10 free energy, while boxes with ribbon give 20-25 free energy. And, bigger boxes give more energy.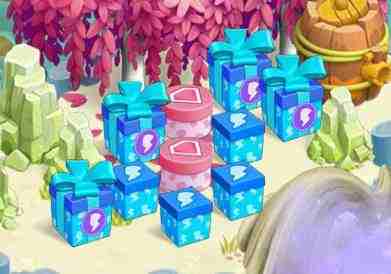 Where to find Family Island energy gift boxes?
In the Family Island game, energy gift boxes are scattered on different locations of the island.
To get these energy gift boxes, you need to clear things from the way and reach different locations where boxes exist.
How to find gift boxes on an island? You can see nearby gift boxes easily in the game. And, for far locations, zoom in the island screen to view all island locations and find gift boxes.
Tip: Never miss to visit new islands in game, because on new islands you will get more energy boxes.
Next, to get daily free energy, you can visit the Family Island free energy links page. And, to know more free energy ways, you can visit How to get more energy on Family Island page.