This guide provides information about seasonal cards and seasonal cards collection albums. Topics covered include: Seasonal Family Album, Cards Collection, How to get cards, Duplicate cards, rewards and more.
Family Island family album feature
The Seasonal Family Album is a fantastic feature in Family Island. Each album is only available for a limited time. In the game, Seasonal albums are unlocked at level 8. This feature gives you free energy and you can also gems as a reward.
Let's know album feature in detail,
1. Family Album in Family Island
In Family Island,
Family Album is a collection of card collections.
Card collection is a collection of cards.
Cards are collectible items which have different images of everything and anything related to the island.
To open Album, tap the album book icon from the bottom area near to the tribes icon.
In game, Family Album contains a certain amount (six sets) of card collection sets. Here, your mission is to complete each set in order to receive milestone rewards.
Album progress bar – In album window progress bar shown at bottom, which contain milestone rewards and fill up with every NEW card added (Except duplicates).
All Seasons button – Tap "All Seasons" button in the top left corner of your album window to flip through the pages of your previous albums.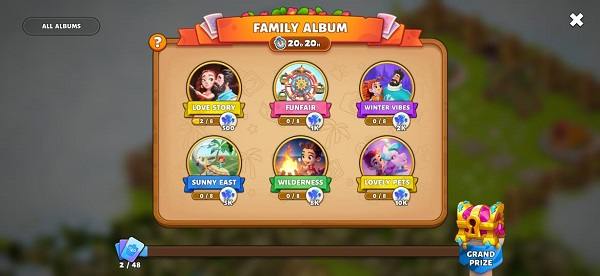 2. Seasonal Card collection in Family Island
Card collection in Family Island is a collection of 8 unique cards. It is also called card set and gives free rewards on completion.
To view the different card collections in the game, open the Family Album window. To view the rewards of card collection, tap on the collection set in the album. The reward information will be displayed below the collection set.
Card collection rewards – You can earn free energy rewards from 500 to 25,000+ energy by completing card sets. More on this, The grand prize includes a large amount of energy and gems.
3. Seasonal Cards in Family Island
Cards are collectible items which have different images of everything and anything related to the island. These cards are used to complete card sets which unlock free rewards.
How to get Cards in Family Island?
There are two ways to get cards in Family Island:
Find cards in Adventure Islands.
Get cards for completing challenges.
Win cards in competitions.
Get cards in rewards during event activities.
Purchase cards in promotional packs (Paid option).
Card rarity value
The value of a card in a game is determined by the number of stars it has. The number of stars on a card indicates its rarity, with more stars indicating a more valuable card.
Cards include common to super rare rarity.
Duplicate cards
In card sets, if you have multiple copies of the same card, a small number will appear in the top right corner of the card to indicate how many duplicates you have.
Here, "New" text in the top right corner of the card means, card is new.
Trade trick: Duplicate cards are converted into star tokens based on their value (During special promotions) and can then be redeemed for rewards.
This concludes the guide on the Family Island Seasonal Card Collection feature. Hope you found it helpful.