This guide provides an overview of the Daily Tasks feature in the Family Island game. It covers the following topics: What are daily tasks, How does the Daily Tasks feature work, How can you collect free rewards using this feature.
What are the Daily Tasks in Family Island?
Daily Tasks feature is a collection of task cards, which you are doing on the island. Here, by completing task cards, you can fill a progress bar and earn milestone and grand prize rewards.
In the game, you can open the Daily Tasks board by tapping the note pen icon near the island icon.
List of tasks in Daily Tasks
Here is list of some task which you need to complete to earn progress points:
Spending rubies
Spending energy
Plant things in garden bed
Completing Order Board assignments
Receiving progress points
Daily Tasks rewards
In the daily tasks board, you can collect milestone rewards and grand prize reward by filling task progress bar.
Milestone rewards: Energy, Golden Tools
Grand prize rewards: Energy, Golden Tools, Rubies
How does the Daily Tasks feature work?
Family Island daily tasks feature works in three simple steps:
Complete daily tasks
Earn points and fill up the bar
Collect all the gifts and grand prize
Task card:
In daily tasks, you find different task cards which contain task details, rewards, task points, where to perform a given task and task progress.
Please be advised that all tasks are time-limited and must be completed before the deadline. Tasks are updated daily, and new tasks are posted on the daily tasks board.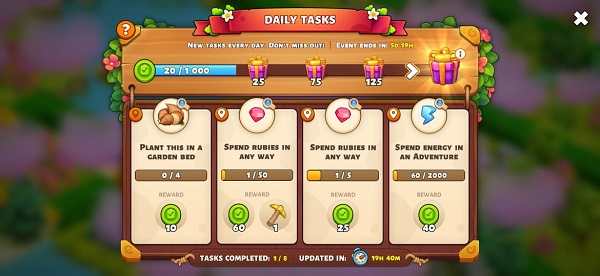 That's all about the Family Island Daily Tasks feature. Hope you find given information helpful.