Legendary Boosters are very powerful boosters in Match Masters. Here, you will know – How you can get Legendary Boosters in your game.
There are three Legendary Boosters – Monkey Joo Joo, Billie Boom and Brocco Boogie.
Now, the question is, how to get these boosters? Let's check the answer in the following section.
How to Get Match Masters Legendary Boosters?
You can get Legendary Boosters from Match Masters Seasonal Reward.
To get legendary boosters, you can take part in the available Match Masters seasons and get a chance to win Legendary Boosters from season rewards, seasonal album reward and pinata reward.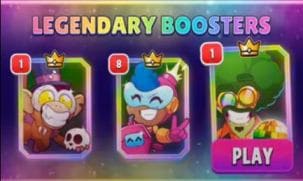 In the Match Masters game, you will get different limited time new seasons from time to time. For example, Moonlight City, Ultimate Legend and more.
Match Masters seasons come with seasonal album, super spins, seasonal rewards and legendary game resources.
Note: In game, seasonal albums and seasonal activities can be unlocked after some milestone level. So, make sure you have already reached that level in the game.
That's it,
Also, check our Match Masters Free Gifts Daily Links post for get free boosters, coins, on fire, perks and stickers.
Hope you find your answer and best of luck for the upcoming Match Masters season to get your Legendary Boosters.
Match Masters related post