Here, you will learn about the Crazy Fox spin item. What is spin, where spin is used, how to check spins balance and more spin related FAQs.
Let's get started,
Crazy Fox spin
You can play Crazy Fox by spinning a game slot machine, doing different actions, collecting coins and build world levels.
In Crazy Fox to spin a slot machine, the user required a number of spin items in the game account. Using spin, users are able to tap spin button, spin slot machine and play game.
So, spins in Crazy Fox are available chances to move game spin machine and play the game.
How to use spins in Crazy Fox?
You can use your spins in Crazy Fox by tapping the big red "PRESS" button, which available at bottom of game slot machine.
Your available spin counts and extra spins count shown between slot machine and "press" button.
The Crazy Fox spin press button can be pressed manually or autospin by holding button for few seconds.
Crazy Fox spin, spin bar and spin button image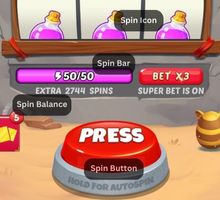 How to get free spins in Crazy Fox?
You can get free spins in Crazy Fox by 10+ different ways. To check out all these ways, you can visit this Crazy Fox Free Spins And Coins – Daily Reward Links post on this site.
That's it,
Hope you know all about the spin resource of Crazy Fox Big Win game.