God Human Blox Fruits fighting style guide includes overview, how you can get God Human, cost, movesets skill, location and FAQs.
Let's get started,
What is God Human in Blox Fruits?
God Human is fighting style in Blox Fruits, which is an upgraded version of Superhuman. This fighting style is mainly for PVP combat. God Human style can be learned from the Ancient Monk.
Money cost: 5,000,000 (5M)
Fragment cost: 5,000
Abilities: Speed, knock-back and stunt.
NPC: Ancient Monk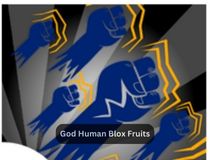 How to get God Human Blox Fruits?
Following are requirements, materials and steps to get God Human in Roblox Blox Fruits.
God Human Requirements Blox Fruits
Third Sea access.
5 million Money.
5000 fragments.
Fish Tail, Magma Ore, Dragon Scale and Mystic Droplet materials.
400 Mastery on Death Step, Electric Claw, Sharkman Karate, Dragon Talon and Superhuman.
Materials God Human Blox Fruits
20 Fish Tail (Get it from 1st sea Fishman Island / 3rd sea Turtle Island)
20 Magma Ore (Get it from 2nd sea Hot and Cold / 1st sea Magma Village)
10 Dragon Scale (Get it from 3rd sea Hydra island)
10 Mystic Droplet (Get it from 2nd sea Forgotten Island)
Tips:
To efficiently grind all materials employ an autoclicker.
Set your account to AFK at a spawn point, while utilizing an Elemental fruit and a weapon, such as a sword, that does not cause movement during its M1 attack.
Also, focus on grinding Magma Ores and Fish Tails in The First Sea as the NPC's there are easier to defeat.
Steps to get God Human
Obtain all God Human requirement things.
Go to the Ancient Monk NPC location.
Get access to the Ancient Monk (First branch on the base of the tree has an entrance which gives access to NPC).
Purchase and get God Human style from Ancient Monk by 5M Money, 5K fragments and required materials.
Ancient Monk NPC location for God Human:
Ancient Monk is located inside a tree, which is found in the Floating Turtle behind the Musketeer Pirates.
God Human Blox Fruits movesets
Soaring Beast: Key – Z, Damage rating – S, Mastery – 125, Moves – 1.
Heaven and Earth: Key – X, Damage rating – S(tapped) / S+(held), Mastery – 250, Moves – 2.
Sixth Realm Gun: Key – C, Damage rating – S(tapped) / S+(held), Mastery – 350, Moves – 1.
That's it,
In conclusion, you can get God Human Blox Fruits fighting style by following 4 steps and satisfying requirements. This fighting style provides players with unique and powerful abilities with amazing movesets. So, get your hands on a God Human Blox Fruit and see great results in game play and PVP combat.