This guide is about Cookie Run Kingdom SUGA Cookie and SUGA Cookie toppings build, skill and more.
Here you know about SUGA Cookie toppings build, SUGA Cookie type, rarity, position, skill, stories and how to get SUGA Cookie in CRK.
SUGA Cookie toppings build
Best topping for SUGA Cookie is Swift Chocolate M. X5 Swift Chocolate Toppings build reduce the skill CD. So, you will be able to cast it more times and faster. By this, you get the most out of its healing, debuff and supporting abilities.
Build for toppings: X5 Swift Chocolate Toppings, Sub stats – CD or CRIT.
SUGA Cookie skill
Healing – 10.9% (20% for max level) every 1 sec for 7 sec
Stun Immunity – 10 sec
Debuff Resist – +30% for 10 sec
When an ally is suffering from 3 or more debuffs:
HP Shield – 17.5% of Max HP for 3 sec
DMG Resist – +13.5% for 8 sec, stacks up to x1
SUGA Cookie skill is ARMY's Wishes.
ARMY's Wishes description:
"Thanks to ARMY's sincerest wishes, the BTS Cookies are Safeguarded and invulnerable to enemy attacks. Use the skill for periodic healing and a buff providing immunity to Stun and increased Debuff Resist for the entire team. If an ally is suffering from a certain number of debuffs, the entire team will additionally receive an HP Shield."
SUGA Cookie in Cookie Run Kingdom
SUGA Cookie is a special cookie of type BTS. This cookie was released on Oct 13, 2022 in the Braver Together! update (v3.8). His internal name is "cookie0565".
Name – SUGA Cookie
Rarity – Special
Type – BTS
Position – Rear
Release date – Oct 13, 2022
Skill – ARMY's Wishes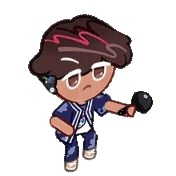 How to get SUGA Cookie? In CRK, you can get SUGA Cookie from BTX X Cookie Run Kingdom crossover Gacha. Its soulstones can also be obtained from the same Gacha.
SUGA Cookie game description:
"Meet SUGA Cookie, the mastermind behind countless BTS tracks. This Cookie is in charge of expanding the group's musical horizons. His potential seems limitless, be it composing, writing lyrics, producing, or collaborating with other artists. Songs by SUGA Cookie come out crisp yet sweet, realistic yet hopeful. Famous for being able to work anywhere and anytime, this prolific creator is looking to open a studio in the very Cookie Kingdom! Although the cat-like SUGA Cookie might not be exceedingly expressive on the outside, make no mistake: he cares deeply about his fellow group members, and even his most unexpected remarks are filled with genuine care."
Cookie Run Kingdom related posts