You want to stop auto merging items when you put them together, right? For this you need to make changes in Camp Merge Preferences in settings. Check out the complete post to understand Merge Dragons Merge Preferences.
Your current problem with Merge option in Merge Dragons
When you put three items next to each other or together, it merges automatically.
But, You want to store or put 3,4, or more items together without merging in Merge Dragons, right?
Now, the question is how do you do that? Answer is here …
Merge Preferences in Merge Dragons
Camp Merge Preferences are settings which manage the item merging process in the Merge Dragons game.
You can open this Merge Preferences option by tapping the "Setting" icon and scrolling settings screen till the Camp: Merge Preferences section.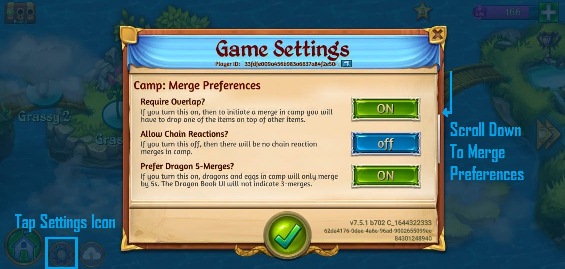 Following are different setting options for merging Camp items in Merge Dragons.
Require Overlap?
If you turn this on, then to initiate a merge in camp you will have to drop one of the items on top of other items.
If this option is off, then items are auto merged when you put them next to each other. So, by making "Require Overlap" setting On, you can stop auto merging and items only merge when you put an item on top of another item.
Allow Chain Reactions?
If you turn this off, then there will be no chain reaction merges in camp.
You can manage chain reaction merges by this setting.
Prefer Dragon 5-Merges?
If you turn this on, dragons and eggs in camp only merge by 5s. The Dragon Book UI will not indicate 3-merges.
This setting option is related to dragons and eggs merge.
At Last,
Your main question's answer in simple words: To stop auto merging on putting items next to each other, you need to turn on "Require Overlap?" setting. This option is available in Merge Dragons settings > Camp Merge Preferences.