This post includes guide to log out from Coin Master game. You will get step by step guide and FAQs for Facebook logout process.
Let's get started,
How to log out from coin master in mobile:
Open the Facebook application in mobile, click on the menu icon(which looks like 3 lines) to the right of the notification icon.
After opening menu, scroll down and click on "Settings & Privacy".
Tap on "Settings" option.
Next, In open the "Apps and websites" setting.
Scroll down, check for Coin Master and click it.
Now, in page press the "Remove" button.
Confirm remove action.
Now open Coin Master game, you are logged out now.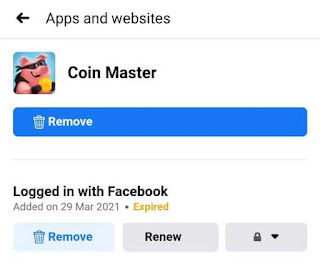 User can login to Coin Master game using Facebook connect. so, if you looking for How to log out from coin master in mobile? Answer is above listed steps. Facebook connected apps can remove from Facebook "Settings & Privacy/Settings/Apps and websites".
Once you remove connected app from Facebook "Account Settings > Apps", You will automatically log out from related app i.e., Coin Master here.
Is user's game progress data deletes from Coin Master, If they log out through Facebook?
As per our test result, NO. User's game progress data does not deleted when you log out through Facebook in Coin Master game.
It means, when you log out through Facebook in game, then no change will happen with your game village level.
At Last,
Hope you found FAQs helpful, Enjoy playing cool and amazing game. Here are some other post that you may like to read.
Coin Master and Facebook connect posts