Raid Madness is an limited time (2-3 days) event for Raid. Each raid on another viking's(player's) village during this event moves closer to amazing rewards.
This event is divided in stages and each stage has higher goals and more rewards.
Let's check out some cool things about the Coin Master Raid Madness event.
Coin Master Raid Madness event list
Following is a list of different Coin Master game Raid Madness events list.
Raid Madness Smashing Six
Raid Madness Treasure Event
Raid Madness Groovy For Gold
Raid Madness Summer Sports
Raid Madness Skeleton Hunt
The Grand Bike Tour Raid Madness
Raid Master
Raid Madness A Very Foxy Christmas
Raid Madness
Raid Madness Treasure Rush
Raid Madness Valentines
Raid Madness Shamrockin
Raid Madness Fun with Foxy
Raid Madness Um Natal Bem Raposo
School's Out Raid Madness
Raid Madness BBO Bash
Raid Madness Event Tips and Tricks
Following are good practices and tips to play Coin Master Raid Madness events. Or, in other words, how to play Raid Madness guide.
1) Play Raid Madness event with Foxy. Always make sure, your Foxy pet is active before starting playing Raid Madness event.
2) Increase bet level X3 or more after getting some attacks. In most cases, users get Raid chances after some attack activity.
3) Play with enough spins. If possible, start playing the event after collecting enough spins, and collect free spins from all possible ways before the event.
4) Change bet level frequently based on raid chance possibility.
5) Plan your playing strategy based on your current event goal and upcoming Raid Madness goal reward prizes.
6) In between playing the event, complete your village level. By this way, you save your coins from other players' raid action.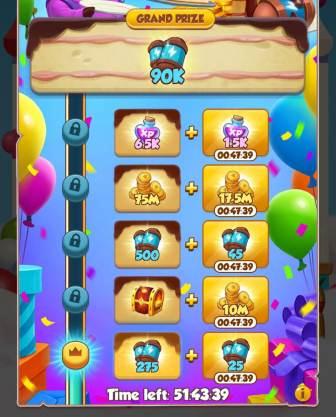 How to check Raid Madness event reward prizes and a grand prize?
In the Raid Madness event, you will find a small blue "i" icon near the piggy raid icon in the goal progress bar.
By tapping this small blue "i" icon, you can check Raid Madness event's reward prizes and grand prize details.

That's it for now,
Hope this Raid Madness guide finds helpful to win more rewards in the event.