Coin Master Team Castle event guide to know about Team Castle event. What is Team Castle, How to build a castle, leaderboard, how to get free rewards and best practices.
What is Team Castle event in Coin Master?
Team Castle is a limited time Team event in Coin Master. Event gives the opportunity to collaborate with your team to build a castle and win free rewards along the way.
You can earn free spins, chests, XPs, Coin Craze and more game resources in the Team Castle event.
How to play Coin Master Team Castle event?
In the Coin Master Team section, you will get the Team Castle banner when the event is live. It means, it's time to start building your Castle.
To play Team Castle event,
1. Collect Hammer items
You can collect Hammers by Raid, Attack and Perfect raid. To perform Raid, Attack and different actions to collect Hammers, you need more Coin Master spins.
Here are Coins Master free spin and different ways to get free spins posts for you.
2. Choose what to build
In Team Castle there are 5 items to build and each item has 3 upgrade levels. There are free rewards for each item build. Here, you need to choose an item to build and to build that item tap on it.
As a best practice, collaborate with team and use team chat to decide which buildings to invest in to earn rewards
3. Claim your rewards
Once a Castle item is built, its reward is available to claim. Claim your rewards whenever it is available and don't forget to collect any remaining rewards before the event ends.
In event, there will be a timer below the event progress bar, which indicates how much time you have left, before they expire.
Team Castle event best practices
Play with team work and use team chat to plan your strategies.
Don't change your team in the middle of an event, by doing this, you will not be eligible for any rewards.
Collect all available rewards before the event ends.
Know event details by tapping the "i" icon within the event banner.
How to check your and team members rank?
To check your rank and your team members rank based on contribution, tap on the "Rank" icon from bottom left corner.
Here in the leaderboard, you can check – how many hammers each member has spent and how many they have left to invest for the current event.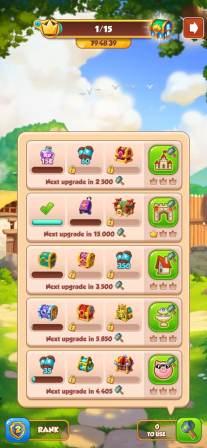 That's it,
Hope you find this Coin Master Team Castle event guide helpful to build your Castle and earn more rewards.