In this post, you will learn about new Diamond cards. What is Coin Master Diamond card, How to get Diamond cards, minimum village level and more.
Let's get started,
What are Diamond Cards in Coin Master?
Diamond Cards are the rarest of the card sets. These are new cards in Coin Master and are available only for villages 120+.
How to get Diamond Cards in Coin Master?
Following are different ways to get Diamond cards.
Earned during special events.
Seasonal chests.
Found in Mystery chests.
Traded for chests.
Never miss these sources to get your Diamond cards in the game.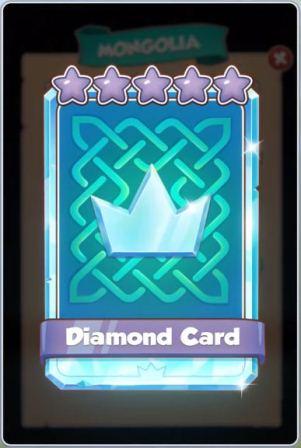 What is the minimum village level for Diamond Cards?
Diamond cards in Coin Master available only for village levels 120+.
What is the use of a Diamond Card?
In Coin Master new Diamond cards are used to complete card sets and win wild rewards.
The purple stars of the new Diamond card are also worth more for you. Card's purple stars quickly increase your normal star inventory, which can help you to climb up the leaderboard.
Here, the rarer the Diamond card, the more stars you get.
That's it,
Hope you find this Coin Master Diamond Cards guide helpful.