Coin Master card and card set guide. You will get detail for new cards, tips for complete card sets, card trading and other helpful details.
What are cards in Coin Master
Coin Master cards are collectible items in game. Player collect card by win it in village lever or by trade/exchange with friends in game. Once user complete card set(group of 9 cards), user will get bigger rewards like, Coin master spins, coins, pets.
Connection between card and Coin Master rewards. Cards have rarity, More rare card collect, more bigger rewards.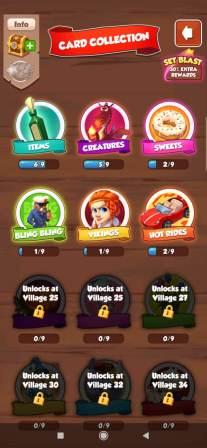 Coin Master Joker Card
Coin Master Joker Card is new reward for game users. Joker Card is like magical trump card. User can earn this card from events reward. Joker Card gives power to transform into any card. Joker card comes with expiry time, user have to transform it into any card within given time to complete card set.
How to trade gold cards in Coin Master?
Coin Master Gold card trading is based on event. Gold Cards can only be traded/exchange in special events. If user have Gold card and want to trade/exchange it, user need to wait for special event where trade allow.
Gold card trade event allows to user for two specific gold cards to be traded. Means event gives detail that in this event Gold card A, card B will allows to trade. User can trade that 2 cards, if they have.
For gold cards trading you can either request or offer these Gold Cards. For a request or offer you can make a post on Coin Master's Official Trading Group.
How to get free Gold cards in Coin Master?
Golden card is special cards in Coin Master. Here is useful detail for get free Gold cards in game.
1. Win free Gold card by playing Coin Master
This is straight and best way to get Gold card. Game user play game and complete village level, different event and win Gold cards in special villages.
2. Get free Gold card by card trading/exchange
Game user can trade or exchange card with other user. so, if your friend have Gold card you can get Gold card from friend by exchange. Note: Gold Cards can only be traded/exchange in special events.
3. Get free Gold card from Facebook card trading group
Coin Master trading group exist on Facebook, Where game users offer and ask for required cards. You can join such best groups and check for free Gold card trade. Here is more detail for Coin Master cards and Facebook groups for trading.
What are chests in Coin Master?
Chests are items that contain collectible Cards and rewards. Chests come in three different tiers – Wooden (contains 2 Cards), Golden (contains 4 cards), and Magical (contains 8 cards).
You can be obtained chests in a different ways. e.g., Digging up a chest during Raids, finishing villages may reward you with a chest as well. Also, Chests can always be bought using Coins in the in game Shop.
How to unlock card collection in Coin Master?
Card collection in Coin Master Game is unlocks based on your village level in game. You will find detail on locked card collection, that in which level that collection will unlock. For example, if you are at village 44 and in card collections, one collection shows message "Unlock at Village 45", then you need to complete level 44 to unlock that collection.