Here you will know about Coin Master Treasure Cave, how to unlock chests with a special key and about Treasure Cave chests rewards.
What is Coin Master Treasure Cave?
Treasure Cave in Coin Master is a mini game, which is available for a limited time period.
This Treasure Cave mini game gives you an opportunity to win major free rewards.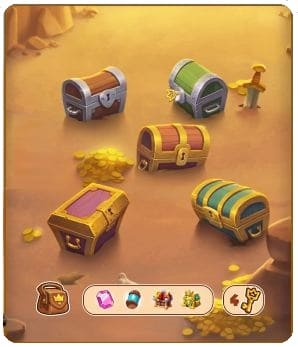 How to open Treasure Cave locked chests?
You can unlock Treasure Cave chests using a special key. These special keys are available as rewards from different game events, spin wheels and features.
After collecting special keys, tap on any cave chests to open it and collect rewards.
Treasure Cave chests rewards
There are three possibilities for chests rewards, when you open them. Empty chests, rewards and Golden Idol.
Empty chests give nothing, reward chest gives different rewards and Golden Idol will allow you to move on to the next level. In the next level, you get a chance to win more rewards.
In Treasure Cave, if you get all Golden Idols and complete all levels, then you will get grand prize.
In Treasure Cave chests rewards, you can get Coin Master free spins, gems and different chests.
Things to know: you can keep any treasure you find. And, to check already collected rewards, click the rewards bag.