Win free spins from contests and raffles on Coin Master social media pages is great way to collect free spins and other rewards.
Coin Master add post on social media pages for daily raffles, contests, and giveaways. Game user can take part and get a chance to win amazing free spin rewards from coin master.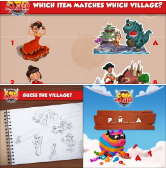 What is Coin Master social media contests & raffles
Coin Master on social pages (mostly on Facebook page) post contests & raffles which have question or video pause challenge. Game user have to answer question or upload video stop screenshot in post comment. User who quickly replied with right answer win amazing free rewards spins, coins, XP and much more.
All users win free rewards by coin Master social media contests & raffles?
Answer is No. Only few lucky winner selected by Coin Master able to win rewards from social media contests & raffles. User who gives answered or complete challenge as per given instruction quicker than other may have more chance to win free spins or other reward from contests & raffles.
Types of Coin Master social media contests & raffles
Guess village name based on given sketch or image.
Answer card name or other word by giving missing letter in image.
Unscramble village name based on village item image hint.
Select gift from given image.
Normal routine or entertainment question about game.
Fill the answer in sentence, asked in image.
Play post video and pause video to particular position.
Match village items.
Coin Master social media contests & raffles post daily unique and common raffles. Here we listed some common raffles.
How do i collect rewards won from Coin Master social media contests & raffles?
Coin Master gives rewards direct to game user account based on Facebook game user id. So, here if you want to take part in Coin Master raffles and want to get reward from Coin Master, you need to connect Facebook account in game.
As per out knowledge when you comment with answer and selected as lucky winner for free rewards, Rewards given based on comment user facebook id. so, user need have to connected same facebook account in game.
Aware of fake Coin Master Facebook pages
Please note that there are several fake Facebook pages promising rewards for liking and sharing their posts, commenting, and clicking on their links. Please ignore all such page use if possible and follow only official Facebook page.
Related articles: