Achievements is a new feature in Coin Master. In this feature, users can win daily task prize, milestone prize and a grand prize by completing 7 days of daily tasks.
Coin Master Achievements feature
This Achievements feature is available for villages 120+.
You can check your Achievements progress, day wise tasks and rewards information in the Achievements board.
In the Achievements feature,
Users need to complete tasks like collect some number of cards, number of time attacks, number of time raids, login for some days, number of time build and more.
By completing these tasks, users can get free spins, coins, XPs, Pet food, Gems, chests and more rewards.
How achievements feature works? – All tasks and their rewards are unlocked day wise, from day 1 to day 7. When you complete all 7 days' tasks, you will get the grand prize. Meanwhile, you can collect task prize and progress bar milestone prizes.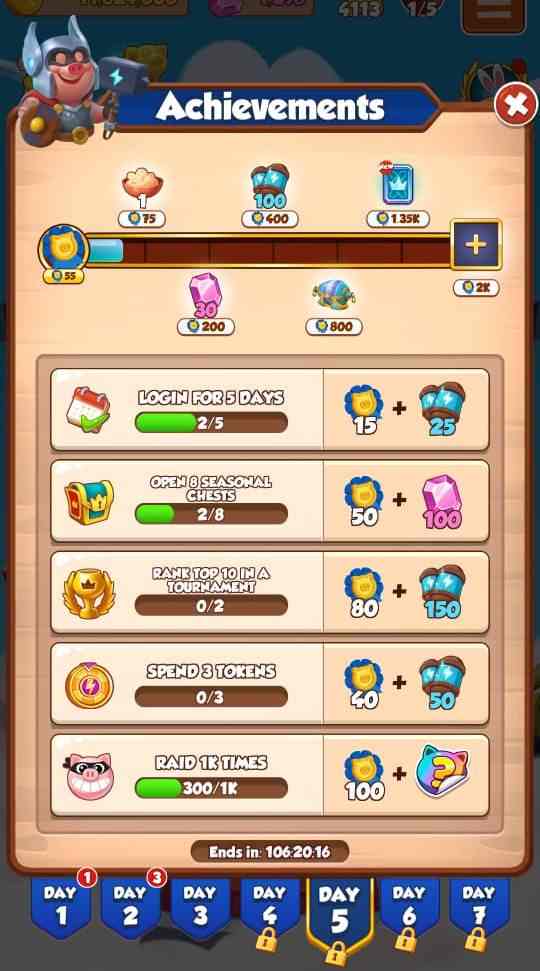 How to claim achievement rewards in Coin Master?
To claim achievement rewards, tap the achievements icon button(golden piggy face and blue ribbon) from the right side and open the achievements board.
Next, check the day by day tasks list using bottom day 1 to day 7 options. In the task list, completed achievements are shown green, you can claim achievements prizes by tapping on the COLLECT option.
In simple words, open the achievements board, check all tasks list and claim achievement rewards which are complete and showing the COLLECT option.