Yes, you read the right sentence, that X quick tips to play Coin Master – which is given by the Coin Master game. But, you may have ignored it while playing the game.
Now, check out all the details about this tips – What are these tips, where these tips given and more.
Let's get started,
Quick tips to play Coin Master game
Here are 10 quick tips which are given in the Coin Master app to play the Coin Master game. These tips are shown on game's loading screen.
These are simple and quick tips which will be really helpful to players while they are playing a game.
Coin Master Quick Tips on Game Loading Screen:
Send daily spins to your friends!
Ditch your duplicate cards for a rewarding chest!
The higher you bet, the greater your rewards get!
Looking for extra spins? Get your friends to play along!
If you don't use your coins, you might lose them in a raid!
Don't forget – Joker Cards do eventually expire.
Want some help? Feed your pet and see what they do!
Keep your progress by connection through Facebook.
It's true…Coin Master is WAY more fun with friends!
Reminder: Claim your daily FREE pet Snack.
Above are simple but very helpful tips to play the Coin Master game.
Where can I find these game tips in the Coin Master game?
Coin Master quick game playing tips are shown on the game loading screen. These tips change one by one above the game loading progress bar.
So, from now on, If some time your game loading takes more time, then don't be angry because in that time, you have a chance to know these amazing tips.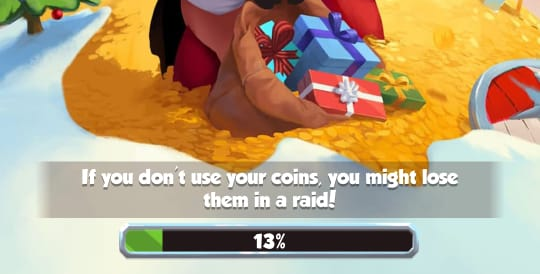 At Last,
Hope you find a quick tips list helpful to progress in your game. And, Next, if you want to check more detailed Coin Master game playing tricks, then read our Coin Master game playing tips post.