Adding friends on the Pet Master game by game invitation link is a simple process. You can enjoy the game with friends and get free spins rewards by adding friends to the Pet Master game.
In this post, you will get a complete guide about the Pet Master invite friends feature.
Guide includes information about, how to invite friends in game, rewards for invite friends, things to know about the process and more.
Let's get started,
How to invite friends on Pet Master game?
You can invite friends from the Pet Master game using the invite friends link. This invite friends link can be shared via chatting apps or directly from Facebook messenger.
Now,let's check,
Invite friends on Pet Master game process steps:
Open the game main menu and tap the "INVITE FRIENDS" option.
Next, you will get green and blue INVITE buttons.
Tap the green INVITE button to share the invite link via WhatsApp, email and other communication apps.
Tap the blue INVITE button to share the invite link directly from Facebook messenger friend list..
Above is the simple process for sending a friend invite link in the Pet Master game.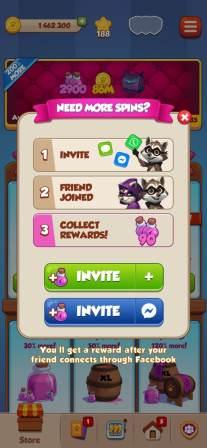 How do I get free spin rewards by inviting friends in Pet Master?
In simple terms, you will get 90 free spins in your Pet Master game account, when your friend joins the Pet Master game with Facebook login using your friends invite link.
But,
There are some things, which you need to know before expecting 90 free spins with every invite link shared.
Things to know about friends invite link spin reward:
Your friends need to visit your invitation link to join the game.
You will get a reward after your friend connects through Facebook.
Pet Master gives you 90 free spins on successful friends invite processes.
Maximum successful invite limit for free reward is 250 (*analysis result).
Can't invite or play with friends in Pet Master – What to do?
It may be possible that you can't invite or play with friends in Pet Master due to temporary cache issues or missing necessary permission to access your Facebook friends' list.
For temporary cache issues, you can close your game app completely and re open it again. And, if it does not work again, then you can remove game app cache data from settings.
Now, if this issue is due to Facebook permission, then you have to follow some steps which are available on the Pet Master support page.
At Last,
Hope this post is helpful for you.