This post is about Roblox Man Face. Man Face avatar – what is it, other names, when it was published, history and more things to know.
Man Face Roblox
Man Face in Roblox is an avatar shop item. This avatar shop item was published by Roblox on July 26, 2012, as a part of the Man bundle. Next, It can also be purchased for free. Man Face is the default face for new unspecified or male gender accounts.
Man Face has become very popular and it is also known for a popular internet meme.
What does the Roblox Man Face look like?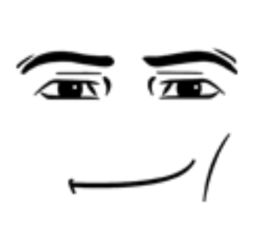 It's the face of a man with little thick eyebrows, mouth with a smirk on it and eyes with trapezoid-shaped.
Release history
July 26, 2012 – Part of bundle item and still available.
Dec 6, 2019 – Avatar Shop item and still available.
Things to know
Originally the name of Roblox Man Face was Johnny Face, it changed due to the release of the Man bundle.
It is a popular meme in games and on the internet.
That's it,
Hope you find Roblox Man Face item information interesting.