Coin Master free cards can be collected from the chest or by exchange of duplicate cards with friends.
In this post, you find a list of ways to get Coin Master free cards. There are total 5 ways to collect free cards.
Let's check out them,
1. Receive card gifts from friends
Using the Coin Master cards gifts option, you can send and receive free cards from friends.
This cards gifts option available under Coin Master main menu's "GIFTS" option.
Free cards sent by your friends show in the "GIFTS" popup cards tab. Once you tap the collect button for a received card, that card is added to your collection.
2. Join cards trading groups
Coin Master's official Facebook page has a list of cards trading groups. In these groups you can post a request for missing cards.
Hare, you can make new friends and trade duplicate and missing cards with group members.
3. Wait for Card Boom Event
In the Card Boom event players get 50% more cards from each chest. So, wait for Card Boom and win more chests to get more cards.
4. Collect free chests from all possible ways
The main source of getting cards in Coin Master is Chests. It means, to get more free cards, you need to get more free chests from the game.
You can get free chest by following ways:
Event rewards
Raid
Purchase with coins
Village complete rewards
Reward calendar
Use Cards for Chest from card collection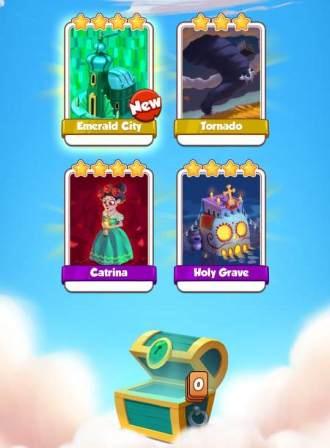 5. Coin Master Teams card request
In the Coin Master team after every 24 hour you can request for missing cards to complete the card set.
Next, teammates can donate you your requested card, if they have more than one in their collection.
That's it, above are different ways to get free cards for your cards collection in Coin Master.
Lastly, you may like to check out Coin Master free spins link page to collect some extra free spins for the game.