In this post, you will learn about the Pet Master game Royal Cards and know two main different ways with sub ways to get Royal Cards in the game.
Before starting checking ways to get Royal Cards, first get an overview of this card.
What is Royal Cards in Pet Master?
Royal Cards are rarest cards in the Pet Master game. This card has a royal badge on the top left corner. Royal Cards are very rare and not found in all chests.
To get more understanding, check out the Free Bananas Royal card in the Chimp Revolution card set.
Now, you know about Royal Cards, but the next question is – How to get them, right?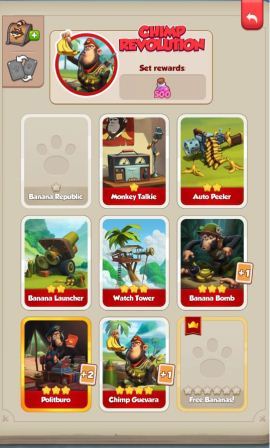 How to get Royal Cards in Pet Master?
Royal Cards in the Pet Master game can only be found in royal chests and as rewards in some special events.
So, two main sources to get Royal Cards are royal chests and special events.
Next, following are some subways which help to find royal chests and events to get Royal Cards.
Special events in Pet Master
In special events, you may have a chance to win a Royal card as a reward item. For example, the Village Rush event.
Dice game Airdrops
Airdrops in dice game drops chests in game. And, in some Airdrops, you can find chests which contain Royal Cards.
Win Tournaments
Some tournaments in Pet Master also offer direct Royal Card rewards. And, to get a Royal Card from such tournaments, you need to win that tournaments.
At Last,
Play the Pet Master game and stay updated with new features and ways to get different rewards, to get more Royal Cards.