In this post, you will know about 5 main things about the Coin Master Viking Quest event. Things include – overview, event missions, rewards, schedule dates, tips and best practices.
What is Viking Quest in Coin Master?
Viking Quest is a mini game within the Coin Master game. Players can spin the viking spinner using viking game coins instead of Coin Master spins. Event is limited to one or two days (26 / 36 / 48 hours).
Coin Master Viking divided into 10 unique missions with rewards. Game users can win rewards, grand prizes and gold cards in Viking Quest.
At village level 50, Coin Master players get Viking Quest. So, if you don't have Viking Quest on Coin Master, then check your village level first.
Viking Quest missions
The Viking Quest mission displayed above the blue Viking Spin button.
There are two types of missions in Viking Quest, Regular missions and the Bonus wheel mission.
Regular mission:
Players need to earn a certain amount of coins to get mission rewards.
For example:
If the regular mission states "Win 10M Coins" it means that the player must earn 10M coins while playing and spinning the Vikings Spinner to receive their reward.
Bonus Wheel mission:
In this mission, players need to earn a stated number of coins by hitting three bonus wheel icons in a row into Vikings Spinner result.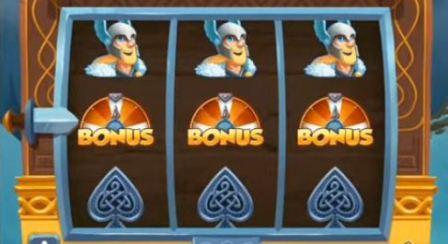 Viking Quest Coin Master rewards
Viking Quest reward map opens by tapping the reward icon. This reward icon is available at the bottom right corner of the screen. Reward Map shows players progress through the 10 missions.
In the Coin Master Viking Quest event, players can win spins, coins, pet potions, pet food, chests and cards(rare or golden cards).
Here, coins won in the Viking Quests are Raid protected for 3 minutes after each press of the blue "Spin" button.
Coin Master Viking Quest schedule dates
There is no specific schedule for the upcoming Viking Quest in Coin Master. But, based on previous viking quest frequency you can determine how often viking quests come in Coin Master.
Viking Quests live regularly in the Coin Master game. This event is available 2-3 times a week. Sometimes viking can be available as soon as a new contest starts.
Tips tricks and best practices for Coin Master Viking Quest
Following is a list of some good practices to play and win Viking Quest in a Coin Master game.
Play the Viking Quest event with enough coins.
Raise or lower your bet wisely.
Raise the bet with good wins.
Lower bet with normal wins.
In the bonus wheel mission bet higher for big wins.
For big rewards, give extra attention on level 6 and next levels.
Above are simple tips and best practices, to get more rewards and win Coin Master Viking Quest.