In this post, you will get Coin Master rare cards info. This info includes – overview of rare cards, lists of different type of rare cards with card sets, guide to find and get rare cards.
In short, you will get a full idea about rare cards. So, you can easily collect it and use it in game to collect awesome rewards.
Let's start Coin Master rare cards' complete guide.
What is Rare Card in Coin Master?
Cards are known as "Rare cards" based on their stars and its availability in game. In the Coin Master game players will get rewards, when they complete card set collection. Here, big reward card sets have some cards with more stars which are not easy to get and such cards are rare cards. Stars shown on with cards indicate cards rarity.
Normal cards in game are easily available in the chests, in trading groups or in raid. But, rare cards need luck or extra effort to get it.
Game users try to get more and more rare cards, because by using rare cards, they can complete card sets and collect big rewards.
List of Coin Master Rare Cards List with Card Set Name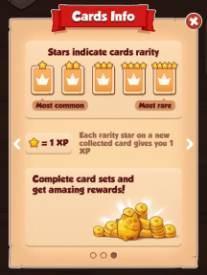 Following are different lists based on Coin Master cards rarity. Here are 5 different rare cards lists given based on cards rarity. From lists, you will also get information about card's collection name.
In following list you will get rare card name and village name in bracket. For example: Card Name (Card Set Name).
Very Rare Cards
Armstrong (Circus)
Barrel Tank (Goblins)
Blizz (?)
Crusader (Space Travel)
Cosmic Carl (Space Travel)
Farmer Feng (China)
Jolly Jasper (Haunted House)
Martian Lettuce (Sand Land)
The Beast (Haunted House)
Top Knut (Warriors)
Torero (Spain)
High Rare Cards
Andromeda (Space)
Aztec Princess (Tribe)
Creaky Crow (Baba Yaga)
Elder Elk (Forest)
Hotrod (?)
Hobby Horse (Toys)
Kettle (Mongolia)
Mythical Tune (Beanstalks)
Punky (Pet Salon)
Santa (Christmas)
Satyr (Mythical)
Smoking Pipe (Sherlock)
Mid Rare Cards
Baby Triss (Dinos)
Cleopatra (Egypt)
Excalibur (Ice Queen)
Fighting Fred (?)
Fighting Monk (Robin Hood)
Gentle Delphi (Dinos)
Kingsfoil (Forest)
Nessie (Scotland)
Portly Pete (Toys)
Tall Tim (Dinos)
Low Rare Cards
Cheerful Chad (Gnomes)
Evidence (Sherlock)
Flamingo (Alice)
Flamur the Flutist (Swiss)
Fondue (Swiss)
Frida (Mexico)
Genie (Heroes)
Gnome House (Gnomes)
Holy Monk (Legends)
Jelly Fish (?)
Little Lenya (Goblins)
Medusa (Mythical)
Merry Matilda (Beanstalks)
Mighty Wizard (Legends)
Mythical Dome (Mythical)
Phantom (Venice)
Santa's Helper (Christmas)
Santa's Sled (Christmas)
Scarecrow (OZ)
Silverback (?)
Very Low Rare Cards
African Warrior (Heroes)
Builder Beaver (Canada)
Caring Cathy (Mongolia)
Cleopatra (Egypt)
Diablo (Halloween)
El Tiger (Beasts)
Holy Monk (Legends)
Kettle (Mongolia)
Magic Tree (Plants)
Martian Wine (Sand Land)
Mastership (?)
Olympias (Mythical)
Pink Eddy (Africa)
Sneaky Jaguar (Tribe)
Toto (OZ)
How to Get Rare Cards in Coin Master?
Rare cards in the Coin Master game helps to win great free spins and other rewards. If you are near to complete card collection and looking for some rare cards, then this section is for you.
Following are different ways/places where you can find and get missing rare cards for your card collection.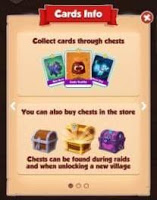 Collect cards through chests: from chests you can get new rare cards. Chest can be found during raids and when unlocking a new village. You can also buy chests (paid) from the store in game.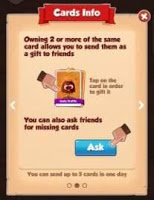 Get rare cards by card trade: if a game user owns 2 or more same cards, then the game allows sending them as a gift to other users. So, by using this trade method, you can get the required rare card for your collection.
Can I get rare cards from Facebook card trading groups? Yes, you can. But, there is a possibility that the opposite (unknown) user will not send a card after receiving your card. So, giving first priority to friends and known game users for card trading is good practice.