To get a Golden Tree, you first need a Golden Seed. Here you will know about the item merge guide to get Golden Seed, Golden Sprout and Golden Tree.
Golden Tree creation required some merges. And, after that Golden Tree can drop Bronze Coins.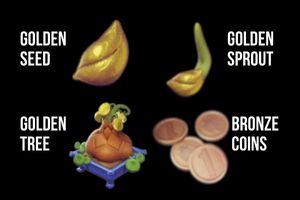 How to get Golden Seed in Merge Mansion?
Golden Seed can be available at the game's initial stage by merging a few items. Following are merge steps to get Merge Mansion golden seed.
In Garage, you will find Pot Fragments.
By merging these items at Pot level 3 and higher, you will get Seed Pouches.
Now, merge Seed Pouches to level 4 and get a Large Seed Bag.
Large Seed Bag turns into an Empty Seed Bag, Once it drops all items.
Finally, to get coveted Golden Tree Seeds, you need to merge the Empty Seed Bag to level 5.
How to get Golden Tree in Merge Mansion?
Following is the merge list process to get Golden Tree from Golden Seeds. In process, you will know how to get golden sprout, seedling and finally golden tree.
First get Golden Sprout by merging two Golden Seeds.
Next, get Golden Seedling by merging two Golden Sprouts.
Finally, you will get the Golden Tree by merging the Golden Seedlings 5 more times.
So, the Merge Mansion Golden Tree merge stage includes Golden Seed, Sprout, Seedling and Golden Tree.
Here is a list of all merge stages which includes all above merge and separate seedling stages.
Golden Tree Merge Stages
Golden Seed
Golden Sprout
Golden Seedling
Golden Tree (I)
Golden Tree (II)
Golden Tree (III)
Golden Tree (IV)
Golden Tree (V)
That's it,
Hope you find the Merge Mansion Golden Seed, Sprout and Golden Tree merge guide helpful.